Meet Terminal's latest talent hub expansion
Earlier this year we took an exciting leap and expanded our LATAM recruiting footprint into South America with a new fully remote recruiting hub in Colombia.
Today, we're thrilled to announce our latest recruiting hub now opening in Chile, a market ripe with exceptional senior technical talent and an extraordinarily business friendly and stable economy to support it.
---
Why Chile? A high level look at local talent
Chile is emerging today as one of the world's most promising fintech and e-commerce hubs thanks to its stable economy and an extremely business friendly environment. The country touts 75,000 software engineers, many of whom have experience working at top companies such as IBM, Experian, Equifax, HP and also at startups like Cornershop and Fintual.
With low corporate tax rates, a timezone just 1-2 hours ahead of EST, and minimal added employment costs (just 5-10%), Chile has earned a reputation as a go-to country in LATAM for US companies to conduct business. Among the many talent markets in South America, Chile boasts some of the highest quality engineers and fastest ramp up times for building new teams due to the ease of conducting business locally.
Today, Chile is growing a technical workforce of high quality talent with a strong density of senior engineers, which in part can be attributed to local globally ranked universities such as Pontifical Catholic University and University of Chile.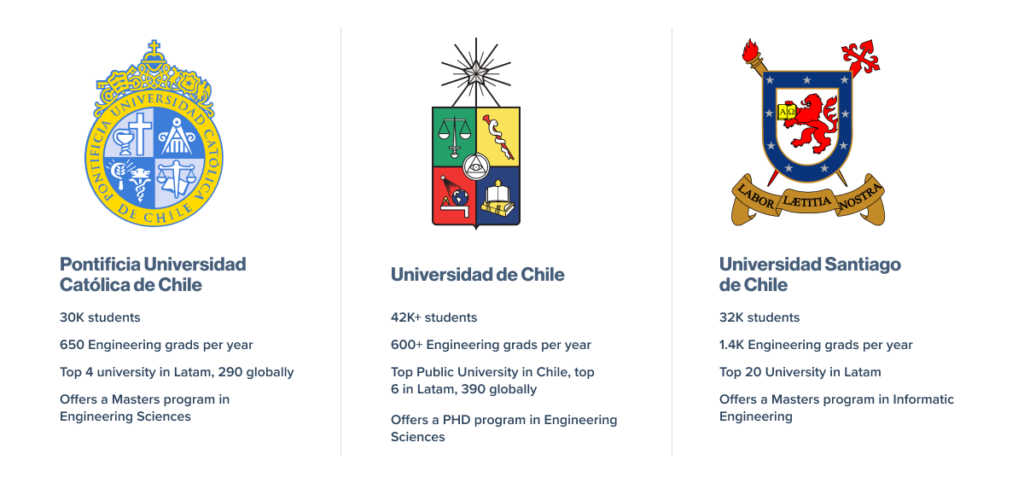 Due to the country's continuously stable economy, a large saturation of US big tech and established companies are already present in the country. This strong foundation of large firms is helping to pave the way for smaller startup competitors to jump in and percolate in the market too.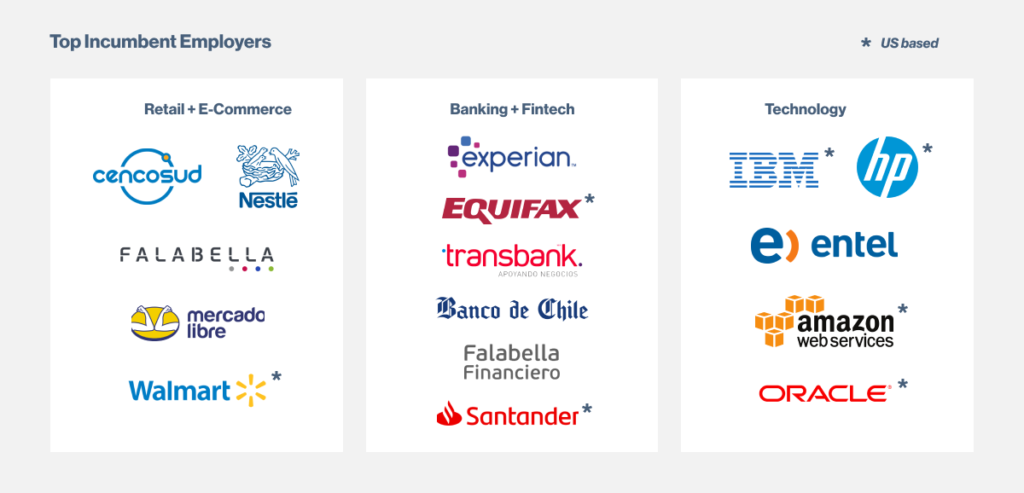 Government efforts driving innovation growth
Chile has developed significant industry presence across retail, e-Commerce, and Fintech, and the entrepreneurship and innovation ecosystems are equally strong.
Most notably, since 2010 Chile has been home to Start-Up Chile (SUP), a public startup accelerator created by the Chilean Government for high-potential entrepreneurs, which today is the leading tech accelerator in LATAM.
It's not to be overlooked that SUP is also among the top 10 accelerators globally with one of the largest and most diverse startup communities in the world.
Beyond this powerful accelerator, government programs and non-profits such as Invest Chile, a government agency serving as a bridge between global investors and business opportunities in Chile, and Chiletec, a non-profit composed of 180 Chilean tech companies promoting the development of Chile's tech industry, are all propelling the upward growth of Chile's technology sector and overall investments in technology.
---
Terminal's remote hub in Chile
Following our deep dive into market data, we're confident that Chile is the perfect next talent market to further expand our recruiting footprint in Latin America, and to bring stellar talent to our customers.
Chile's technical talent market offers unique and complementary skill sets to our neighboring recruiting hubs in Mexico and Colombia, which will help our clients hire multi-market teams, leveraging talent specializations in diverse regions.
In Chile, Terminal's fully-remote hub will be powered by recruiters with deep expertise into the local market who will be keeping their fingers on the pulse of Chile's multiple tech talent ecosystems. We're excited to already be a part of multiple local tech-focused communities including Invest Chile and ProChile.
Our goal is to connect fast-growth companies with the incredible local engineer talent, and in turn, also create new job opportunities for Chileans to propel their careers by working for companies that are solving fascinating challenges in the world.
Take a peek at our current Chile job openings and stay tuned for more to come soon.
To learn more about how to take a multi-market team approach to accelerate your company's growth, get in touch with a Terminal expert who will guide you through our deep country and recruiting insights.