In just a few short years, India will be the only country in the world with a surplus of technical talent. The numbers for the United States are borderline depressing.
By 2030, the U.S. is expected to forego $163 billion in revenue each year due to technical talent deficits. A major issue that affects businesses of all sizes, the tech deficit will force American companies that plan to excel past 2020 to seek alternative methods to reach their hiring goals. That process starts by understanding the landscape and who will suffer the most from a talent shortage.
New York is slated to bear the brunt.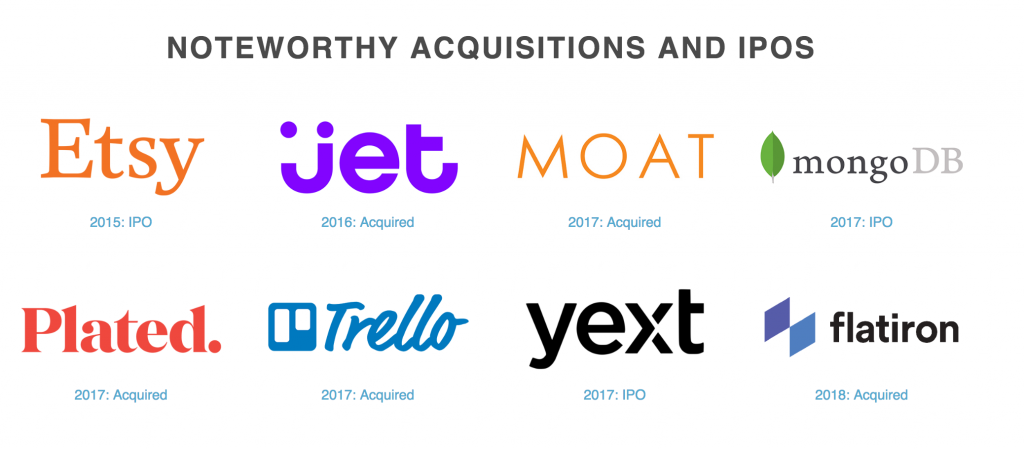 NYC's Tech Landscape Looks Great….From The Surface
At first glance, the NYC tech ecosystem is booming. Success stories in healthcare, fintech, SaaS and digital media like Buzzfeed and Tumblr have spurred new companies, opportunities and investments. From city hall to the private homes of angel investors, the effort and commitment to turning NYC into a tech town is already a decade in the making. According to a 2018 report from CBRE, NYC's tech talent pool is the second largest in the U.S., trailing only the San Francisco Bay Area. In 2017, the city boasted more than 9,600 startups and 120 incubators and hundreds of coworking spaces to help house them. Google and Amazon recently decided to invest in the area for the long run, and some individuals who rode the waves of their success out west have made the cross-country move to start their own ventures like Ben Darnell, Peter Mattis, and Spencer Kimball of Cockroach Labs. That said, the New York ecosystem doesn't feel like Silicon Valley west. It's developing its own flavor and attracting top tech workers using the best marketing tool ever created — the sites and attractions of the city that never sleeps.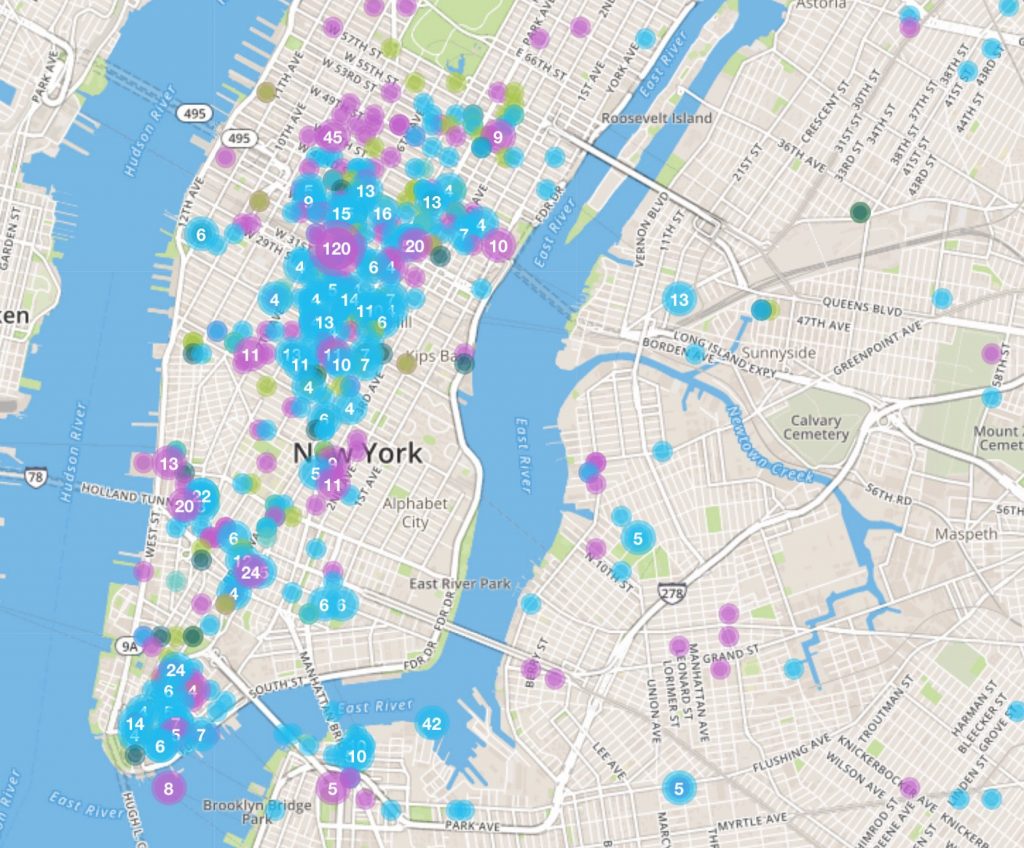 Tech aside, 45 of the world's Fortune 500 are based in the Big Apple. With that many legacy institutions around there is perhaps no other city in the world where tech and traditional industries can mingle like they do in NYC. It's a crossroads, and that's what makes it such an exciting place.
From an outsider's point of view, New York is a likely heavyweight tech contender of the world. In reality, however, its future is much more vulnerable than Seattle, San Francisco, Los Angeles, and most other major U.S tech hubs.
"New York I Love You, But You're Bringing Me Down."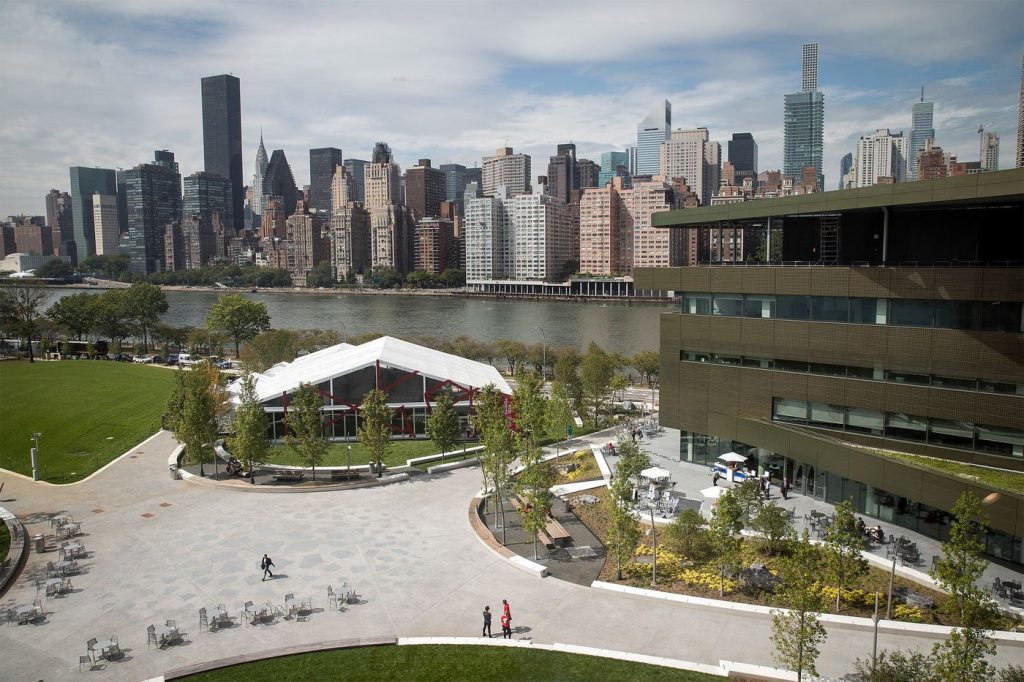 Although NYC is the second largest tech talent pool in the U.S. that pool isn't growing nearly as quickly as it needs to support the fast growth in startups. There are over a quarter million tech workers in New York, but they can't keep up with the increase in open roles. 76,000 tech jobs were added between 2006-and 2016, the majority of which came in the final two years. And although there are no official numbers yet for 2017 and 2018, we do know everything is trending up and to the right. Add in Google and Amazon who plan to add an estimated 45,000 new jobs, and the outlook is dizzying. As for new talent, the state of New York has just over 712,000 tech-focused grads in 2017, but College Factual reports that less than 2,000are true computer science grads each year. Even if the city recruits thousands of skilled workers from outside New York, there won't be nearly enough to match demand.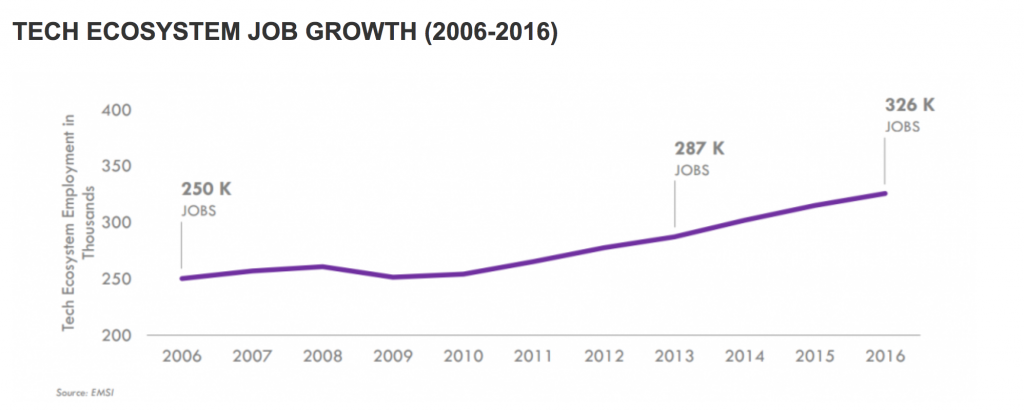 The clearest sign of New York's current and future technical skill gap lies in the field of data science. According to a LinkedIn report released earlier this year, New York's talent gap grew more than any other U.S. city. Nationally, the U.S. is short 151,717 data scientists, but NYC accounts for 34,032 of those roles or 22%. The growth or velocity of the data science deficit is unprecedented. Between 2015 and 2018 that skills gap widened by 723%.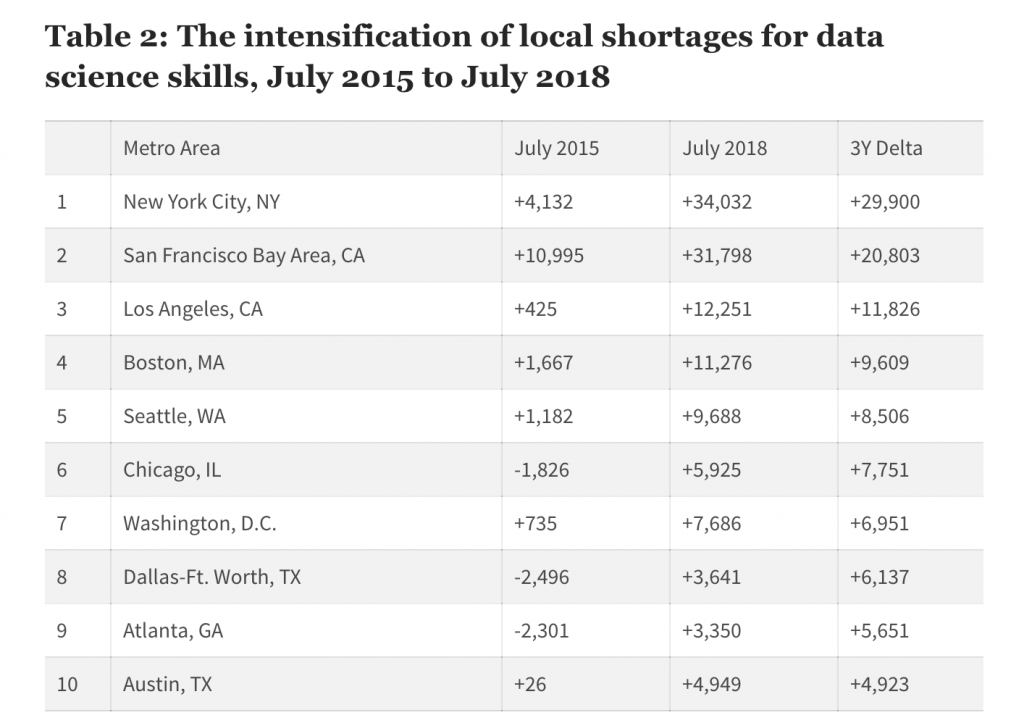 Two of the reasons that deficit has grown so rapidly over the past year are funding and hiring trends. Startups in NYC closed nearly 1,500 deals worth $12 billion last year, almost double the capital invested in 2014, while 53%of tech companies said that they would increase their headcount by more than 20% from 2017 to 2018. Both of these statistics affect the level of competition for talent in the market. In other words, New York is already suffering from the same problems the Bay Area has faced over the past decade — fighting the impossible talent battle against tech goliaths like Google, Facebook, Apple, among others. In fact, it's hard to imagine a scenario where hiring teams at startups could continue to have the mild success they have experienced in recent years. Amazon's HQ2 in nearby Long Island will alone create 25,000 jobs over the next decade with an average salary of $150,000.
Given the velocity of the skills gap, NYC's situation will be much worse than the west coast powerhouse in just a few short years.
To recap, New York should be proud and concerned. Everyone thinks the city's commitment to tech is paying off — and it is. The demand for skilled workers is a clear sign of success, but if you are a startup or mid-level business trying to compete, this trend could be your reality:
The skills gap is widening at an alarming rate for all technical roles.
Local universities aren't producing nearly enough qualified graduates.
Companies have more funding than ever and have aggressive growth plans.
Tech goliaths are moving in (or moving in next door) and will only increase talent acquisition woes.
Overall, it's one of the slowest growing tech talent pools in the U.S.
So what does this mean for the companies?
Will Startups and Mid-Sized Businesses Fall Into a Skills Gap and Never Get Out?
It's hard to show just how dire the recruiting landscape in NYC will be in a few years because of the crossover of tech with other services. The data reported by the NY Labor board underestimates how many tech jobs there are in NYC, most of which are disguised as financial services, healthcare, and other traditional industries. Business classified as tech make up at least 4% of total economy and 56% of its total growth. Tech has expanded at a much faster rate than other job sectors. The CBRE report found it grew at an annual rate of 5.7% compared with 1.9% for all fields.

We don't know all of it, but some of the writing is already on the wall. Businesses should expect:
Office space will become even more difficult to lease. Asking price is up 19.5%, while vacancy is down to 7.9%.
Talent will be hard to come by. Overall growth will make it much harder for companies to acquire the talent necessary to grow.
More startups and opportunities will create higher attrition rates. We've seen this in the Bay Area. The average tenure at a tech company is just 18 months. That will make life miserable for hiring teams.
Success breeds more competition. We are all rooting for NYC to create the next unicorn, but unicorns spill out entrepreneurs that create even more competition in the market.
So what should startups and mid-sized businesses do to avoid being crushed by the tech talent shortage?
For starters, they need to approach team building differently from how they have in the past. HR and recruiting functions will need to be added in sooner. Creating an environment that really invests in employees will be more important than ever. And most importantly, they need to start thinking outside the box when it comes to recruiting — and outside the 10-mile radius of their HQ. Competing locally against the likes of unicorns will prove impossible for startups and mid-sized businesses.
Just as they already are for Bay Area based companies, remote teams can and will be a driver for New York tech businesses. Looking to rich talent markets with high-quality tech workers is something all companies need to take into consideration. Researching options overseas is a must, but for NYC specifically, untapped markets in nearby Canada make a lot of sense. A short flight from Toronto, Montreal, and Kitchener-Waterloo, NYC teams are just a few hours away from some of North America's best engineers. Here's where to start your research.