It's an age-old tale: a company goes on an epic quest to find an employee that is just right. When they finally find their One True Engineer, the company bestows upon them a job offer that would have their new match running to live near them at headquarters. But that fairytale is getting flipped; engineers aren't moving for new jobs.
In the era of remote work, they know they don't have to leave their communities to find a happily ever after. And employers that insist that they do are going to find themselves with a severely limited talent pool and sign themselves up for a never-ending story.
For many developers, a move doesn't add up
According to Terminal's 2022 State of Remote Engineering, engineers in Latin America and Canada feel that they don't need to relocate in order to find great opportunities. Out of more than 1,000 global engineers surveyed, 35% expressed no interest in moving to the United States to pursue a new role. Canadian engineers in particular don't feel the need to relocate, with 47% reporting that they are not open to the possibility. And even for engineers who might be amenable to relocation, a substantial incentive would be in order: 27% say that they'd require double their current salary, and 19% say that they'd require more than double.
Cost of living in the United States makes relocation unattractive to global engineers. The United States currently ranks as the 14th most expensive country in the world, up from 15th last year. And in traditional American tech hubs, cost of living can be downright prohibitive. San Francisco currently ranks as the most expensive city in the US, and New York, San Jose, and Seattle all make the top ten. For many engineers, moving to the United States simply isn't worth the risk or expense.
Engineers want Silicon Valley compensation to come to them
There's good news – global engineers are very interested in working for a US tech company. In fact, 75% of global software engineers say that they would like to work for a tech company headquartered in Silicon Valley or in another American tech hub.
This is good news for US companies that want to hire global engineers. As long as businesses are open to remote work, they'll find themselves hiring from a vast and highly skilled talent pool. Moreover, by offering equity as part of compensation, companies can ensure a competitive advantage. Eighty-nine percent of global engineers state that equity is an important part of their desired compensation, but 57% of Latin American engineers and 46% of Canadian engineers don't currently get equity.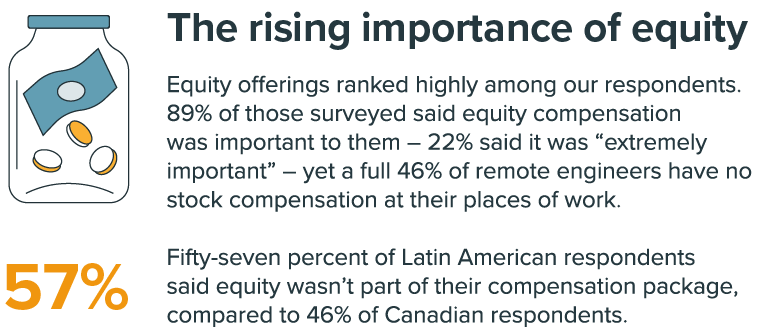 Canadian and Latin American engineers are in demand and they know it. They have ample local and remote opportunities that allow them to do compelling work and advance their careers. Because a large percentage have no interest whatsoever in entertaining in-person roles in the United States, companies that insist on relocation are going to lose out on these highly skilled workers. But if companies embrace remote hiring and offer Silicon Valley compensation, they can hire the candidates of their dreams. Now that's a fairytale ending that makes everyone happy.
Want to learn more about what global engineers are looking for in their next role? Check out Terminal's 2022 State of Remote Engineering report.